Self-aligning, PCTFE seat designed for flexibility and solid closure at cryogenic temperatures.

Port on bonnet for relief valve, purge valve, or pressure gauge installation.

Pneumatic or electric actuators available for automated operation.

ASME B16.34 code compliant available.

One year warranty if sold separately.

MODULAR SHUTOFF VALVES AVAILABLE FOR UPGRADED SAFETY
20x less cryogen loss versus non-vacuum jacketed cryogenic valves equates to lower operation costs.

Bubble tight closure means tighter seal at cryogenic temperatures preventing possible equipment problems.

Vacuum jacketed insures safe to touch during use.

Low torque for easy on/off operation.

Quick and easy seal replacement reduces downtime.
Pipe and Equipment Isolation

System Expansion / Re-Routing Connections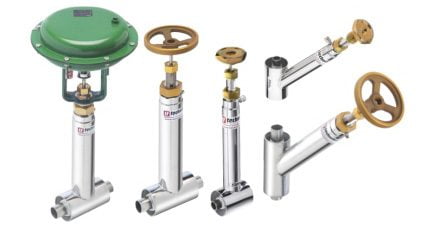 TV Pipe Series Valve Specifications
Temperature Range:
-450° to 100°F (5 – 311K)
Operating Pressure:
Bubble Tight tested to 150 psig (10.3 Bar)
Valve Class (ASME 16.34):
Standard Class 300
Manual Working Pressure 720 psig (49.6 Bar)
840
840FC
1315
2375
4500
Inner Pipe Size
1/2" NPS
1/2" NPS
1" NPS
2" NPS
4" NPS
Pipe Inner Diameter
.71"
(18 mm)
.71
(.19 mm)
1.185"
(30.1 mm)
2.209"
(57 mm)
4.125"
(104.8 mm)
Cv (Kv) - Globe
2.4
(4.02)
1.07
(.86)
14
(14.8)
20
(17.2)
191
(165.2)
Cv (Kv) - "Y" Pattern
3.0
(4.28)
N/A
15.6
(5.17)
N/A
N/A
Heat Leak in BTU/HR (watts)
4.8
(1.0)*
4.8
(1.0)*
7
(1.86)*
7.9
(1.89)*
21
(4.5)*
Valve Installation Dimensions

All Dimensions in Inches (mm). *Fully Open
| | | | | | | | | |
| --- | --- | --- | --- | --- | --- | --- | --- | --- |
| TV-GM-0840 | Figure 1 | 14.1 (358)* | 2.6 (66) | 3 (76) | 2.375 (60.3) | .840 (21.3) | .5 (13) | N/A |
| TV-GP-0840 | Figure 2 | 19.6 (498) | 9 (229) | 3 (76) | 2.375 (60.3) | .840 (21.3) | .5 (13) | N/A |
| TV-YM-0840 | Figure 3 | 11.2 (284)* | 2.6 (66) | 4 (102) | 2.375 (60.3) | .840 (21.3) | .5 (13) | 12.4 (315)* |
| TV-YP-0840 | Figure 4 | 16.6 (422) | 9 (230) | 4 (102) | 2.375 (60.3) | .840 (21.3) | .5 (13) | 17.8 (452) |
| TV-GM-0840-FC | Figure 1 | 14.4 (366) | 2.6 (66) | 3 (76) | 2.375 (60.3) | .840 (21.3) | .5 (13) | N/A |
| TV-0840-FC | Figure 2 | 21.4 (545) | 8.5 (22) | 3 (76) | 2.375 (60.3) | .840(21.3) | .5 (13) | N/A |
| TV-GM-1315 | Figure 1 | 18.7 (476)* | 6 (150) | 5 (127) | 2.875 (73) | 1.315 (33.4) | 1.0 (25) | N/A |
| TV-GP-1315 | Figure 2 | 24.6 (625) | 11 (279) | 5 (127) | 2.875 (73) | 1.315 (33.4) | 1.0 (25) | N/A |
| TV-YM-1315 | Figure 3 | 15.8 (402)* | 6 (152) | 7 (178) | 2.875 (73) | 1.315 (33.4) | 1.0 (25) | 19.6 (498)* |
| TV-YP-1315 | Figure 4 | 20.2 (513) | 11 (279) | 7 (178) | 2.875 (73) | 1.315 (33.4) | 1.0 (25) | 24 (610) |
| TV-GM-2375 | Figure 1 | 23.8 (605)* | 6 (152) | 7 (178) | 4.50 (115) | 2.375 (60.3) | 1.5 (38) | N/A |
| TV-GP-2375 | Figure 2 | 31.3 (795) | 13.1 (333) | 7 (178) | 4.50 (115) | 2.375 (60.3) | 1.5 (38) | N/A |
| TV-GM-4500 | Figure 1 | 36.2 (920) | 10 (254) | 14 (356) | 6.625 (169) | 4.5 (115) | 1.5 (38) | N/A |
| TV-GP-4500 | Figure 2 | 59.3 (1506) | 16 (406) | 14 (356) | 6.625 (169) | 4.5 (115) | 1.5 (38) | N/A |