Automatic Dewar Filling Station
The AFS-01 is an automatic shut off liquid nitrogen dewar filling station for standard liquid cylinders.
The AFS-01 is designed to fill portable low pressure liquid nitrogen dewars from a pipe system or bulk tank. The AFS-01 uses a cryogenic sensor to detect a "full" condition. Once full, cryogenic valves shut off the fill cycle maintaining the fill pressure of the liquid cylinder. The liquid cylinder is ready for immediate use.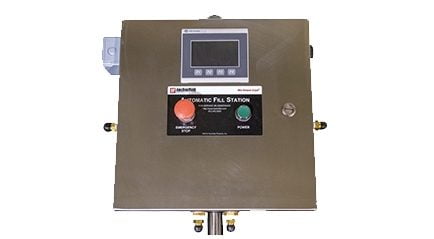 Eliminate overfilling and loss of LN2.

Create a safer work environment with fill shut off timer, vent safety interlock, and emergency stop.

Eliminate wasted labor and downtime.

Save money by eliminating the need for dewar deliveries.

Control the maximum amount of time the inlet valve will stay open.
Enclosure
Stainless Steel NEMA 4X, IP66
Power Input
110VAC or 240VAC, 60Hz
Power Usage
194W Nom
Specifications
Allen-Bradley Micrologix 1100
Allen-Bradley PanelView800
External Temp Rating: 32-122F
20-175 psi Pressure Rating
Additional Components
VJ or Non-VJ Hoses
Dimensions
16" W x 20" L x 6" D
41cm x 51cm x 15cm
Allen Bradley PLC controls. Start the process and it will run itself.

Adjustable timeout timer and cryogenic sensor threshold.

Status indicator light and audible alarm contact.

Vent interlock, max fill timer, EMO switch, and fail close valves.

Fill liquid cylinders where it is most convenient.
Download Literature Links