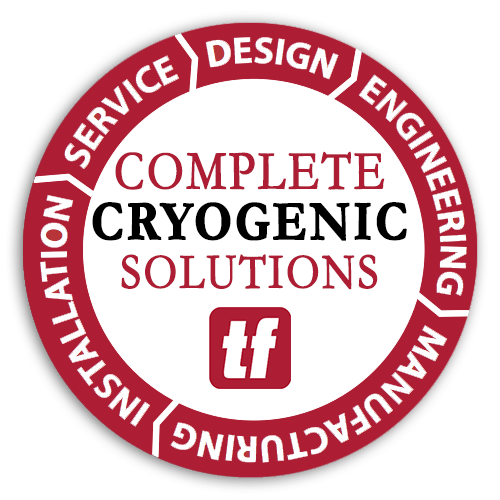 COMPLETE CRYOGENIC SOLUTIONS
That means we handle the entire process for you!
With over 30 years of experience in cryogenics and vacuum technology, Technifab Products is the best way to ensure your requirements are met from initial start-up to completion. We provide design services, system evaluation, manufacturing, and installation. Our manufacturing techniques and disciplined culture aim to produce and deliver the highest quality components and systems that meet the standards of complex organizations, including ASME and the Canadian Registration Number (CRN) System.
Technifab Products' knowledge, experience, commitment to quality, and reputation are part of everything we deliver. Let us develop a solution for you!
WE'VE GOT YOUR INDUSTRY COVERED
Our cryogenic equipment is trusted and relied on daily in the Aerospace, Healthcare, and Electronics industries. Technifab Products' cryogenic equipment, such as our Phase Separators, Vacuum Jacketed Piping, Cryogenic Transfer Equipment, and Filling Stations, are used in millions of applications annually. We also design and manufacture custom cryogenic equipment for specialized OEM applications, from high technology applications like celestial sensors and spectrum analyzers to specialty automotive and ice cream manufacturing.






WHY TECHNIFAB PRODUCTS
IS A STEP ABOVE THE REST
We aim to attract and retain customers by providing quality products at competitive prices and delivering better customer service. Our integrity, professionalism, and cryogenic expertise will help meet your needs and solve your problems.
We specialize in equipment that transfers LN2, LH2, LOx, LAR, Liquid CO2, LHe, and other Cryogenic Fluids.
Our industry-leading warranty backs our Techniguard™ rigid and bendable cryogenic transfer hoses and piping systems.
We offer complete installation services out of multiple locations.
Technifab's Phase Separators deliver high-quality, low-temperature, saturated liquid nitrogen at an adjustable, consistent pressure.
Technifab Products CNC Manufacturing division ensures strict quality standards, JIT delivery requirements, and tight cost controls.
Technifab's helium transfer hoses outperformed the competition in independent tests.
We have a comprehensive Resource Library for cryogenics and cryogenic liquid transfer information, including Evaporation Rate for Dewars, Vacuum Jacketed Piping, and Cryogenic Liquid Flow.